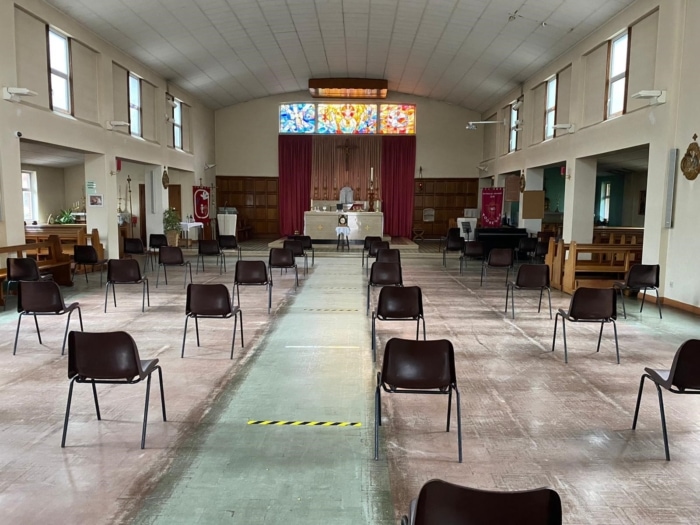 Sunday Mass times are just as they were before the lockdown:  Saturday 6.30pm, Sunday 8am, 10am and 6.30pm. During the week there is Mass every day at 10am (except Saturday). All Masses are live streamed on the internet via YouTube. Here is the link: https://www.youtube.com/channel/UCYVyZ2Xpfs0NiuU3bxAjsCQ/live
There is Adoration in front of the exposed Blessed Sacrament after Mass every Tuesday from 10.30-11.30am.
So much is back to normal. But as you will have seen if you came to church during this past week, things are not really back to normal.
Everyone attending Mass must provide their name and contact details (phone number or email or postal address). Email the details to selsdon@rcaos.org.uk in advance to save queuing.
You must wear a face mask in church so bring your own. There will be some provided for those who forget.
A maximum of 50 people are allowed into the church at any one time. If there are already that number inside when you arrive, the stewards will advise that you need to come back at another time.
Access is only via the side door leading into the Sacred Heart chapel/confessional and people must leave via the main central rear doors. Follow the signs.
Hand sanitizer is provided for use both on entering and leaving the church.
Chairs have replaced the benches and are at 1m intervals to ensure the necessary social distancing. Please do not move them.
There are no votive candles, no holy water, no singing, no Bidding Prayers and no Sign of Peace.
No Mass/prayer/hymn books or any other shared items are available. Bring your own.
There is no Offertory collection during Mass. Please place your offering in the basket/box at the entrance/exit.
Stewards will guide and advise you on when and how to come forward for Holy Communion which takes place after Mass has ended and is completely silent.
Unless staying on for Adoration on Tuesday mornings (10.30-11.30am), you are asked to leave straight after Holy Communion – do not go back to your seat and do not congregate in the car park.
Don't forget to turn your chair back to front before leaving so that the stewards know which ones to clean afterwards.
The toilets cannot be used.