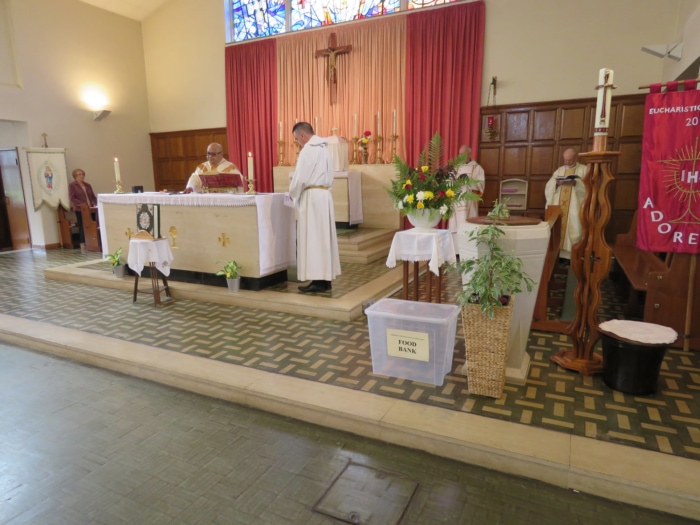 St Columba's is open, allowing us to celebrate Mass together in the church.
Mass times are: at 10am every morning except Saturday plus 6.30pm on Saturday and 8am and 6.30pm on Sunday.
All this is dependent upon our having a team of stewards at every Mass to monitor numbers and clean chairs afterwards, as required by the Government.
All Masses continue to be live streamed on YouTube for those unable to attend (the link is at the head of this page).
This 'new normal' comes with Government-imposed restrictions.
So don't forget, whenever coming to Mass,  that we must all comply with the following 'Ten Commandments':
Remember to bring and wear a face mask (over your nose as well as your mouth).
Enter the church via the side door leading into the Sacred Heart chapel/confessional, observe the one-way system and leave via the centre back door.
Provide a written note – and this applies every time you come to church for whatever reason – of your name and contact details (phone number or email or postal address) plus the date and, if relevant, Mass time. To save queuing and filling out a form when you arrive, send an email to selsdon@rcaos.org.uk
Use hand sanitizer, provided, both when entering and leaving the church.
Do not move the chairs which have replaced some benches and are at 1m intervals to ensure the necessary social distancing.
Don't expect to find Mass or prayer books or any other shared items: bring your own. That applies to readers as well.
Remember that singing is not allowed.
Holy Communion will be distributed after Mass has ended. Arms fully outstretched with palms upright please.
Before leaving the church (i.e. before you come up to receive Holy Communion), turn your chair back to front so that the stewards know which ones to clean afterwards. That includes the chair in front if you have used it for support.
Leave the church via the side aisles and the main rear door straight after Holy Communion. Do not congregate in the car park for a chat.
Please note that doors are left open for ventilation.