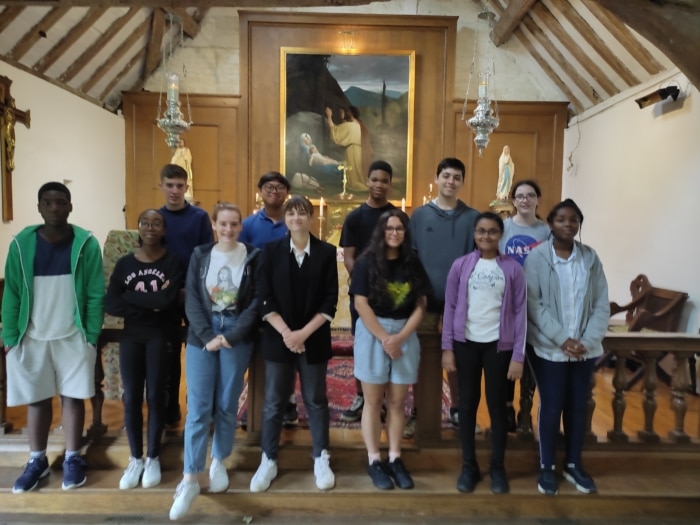 "Summertime camp rocks!" That was the verdict on the altar servers' Summertime camp from one of our servers who attended it. The event, which takes place annually, was held over four days in August at the Oratory School in Reading, Berks. Activities included talks, discussion, prayer and daily Mass as well as sports, a trip to Thorpe Park and swimming.
Following is a report by Olly and Lemar Onyeachom who attended the Summertime camp. Grateful thanks to Croydon Catenians for sponsoring them.
Lemar writes: My time at oratory was most enjoyable. Every day there was always something exciting to do from swimming to table tennis and we even went to THORPE PARK which was really exciting.
There was also daily Mass. I now feel more closer to God and when I went to confession after not going for 2 years (because of Covid), I'm was so much more relieved. At the camp, if you forget to go to confession, you have the whole time that you are there to go because it was always accessible. The food was great especially the desserts and lots of it available too.
I'd like to say "Thank you" to my parents and the Catenians for sponsoring me and my sister on this trip  and to John Fennel who made my mom aware of this rare opportunity, as we'd never been to any  sleepover events without my parents before, so this was a really fun novelty. My mom said before I left that this trip will give me the sense of responsibility I need when starting secondary school and I think it has, but I'm not going to let her know that. Haha!
Now at the end of my article all I have to say is…ALTAR SERVERS' SUMMERTIME CAMP ROCKS!!
Olivia writes: On my first day we arrived at the 0ratory, a  beautiful Catholic school. We went to our dorms and were allowed time to socialize. After that we did afternoon prayers and ate lunch (it was really good). We had a very enlightening talk about the nature of Confession. There were many talks through the course of the four days. We prayed for the second time that day before going to bed.
The second day was the same as the last but to my surprise, even more amazing. There was a talk about the Eucharist where I learnt so much about my faith that I did not know before.
Day 3 we spent our time at Thorpe park it was incredibly fun. I was so sad on the last day, as this was one of the most memorable experiences I've ever had . So, if you ever need a reason to be an altar server this, as well as serving God at Mass, would be it.
I would also like to use this opportunity to thank the Catenians for their generous contributions as they partly sponsored this trip. Also huge thanks to our Altar servers leader, John Fennell, for informing my parents about his wonderful opportunity.